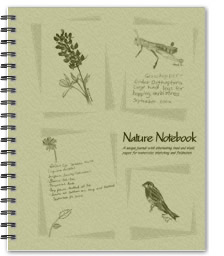 "A unique journal with alternating
lined and blank watercolor stock pages to allow for watercolor, sketching, and fieldnotes."
Schools and homeschools using the Nature Study teaching methods of Charlotte Mason or an elementary science curriculum incorporating outdoor or field study will find this a valuable teaching tool.
The ArtTrails Nature Notebook becomes a keepsake as it passes on with the student from year to year. The recycled, lined pages, alternating with heavier watercolor stock make this a one-of-a-kind notebook, allowing for both artwork and journaling at the same time. The artist quality watercolor stock prevents paintings from bleeding through to other pages.
The Nature Notebook's laminated glossy cover, spiral binding and sturdy back cover add usefulness and longevity. Each 8 1/2″ x 11″ ArtTrails Nature Notebook comes with a full-page guide including directions, methods and suggestions for getting started on a keepsake journal to cherish. When you purchase your Prang Watercolors from us, we will include, free of charge, a fine-tip watercolor brush for use in capturing fine detail in your painting.